Vitamin E is a fat-soluble vitamin present in the body keeping your skin, hair, and eyes healthy. 
What happens when your body leads to a deficiency of vitamin E? 
General symptoms include loss of vision, dryness of skin, greying of hair, muscular weakness, and loss of control over movements; these are the common symptoms of vitamin E deficiency.
Nature's Bounty vitamin E capsule provides a sufficient dosage of vitamin E to fulfill your daily needs.
Product description:-
Nature's Bounty Vitamin E Rapid Release Softgels are a source of vitamin E that cures nutrient deficiency in your body
Nature's bounty packs the Vitamin E into a soft gel(capsule) form that is soft gel capsule open only on the target side of the body which leads to a quick and fast response. 
It has antioxidants, immunity boosters, and properties without GMOs and paraben. Antioxidant properties of vitamin E prevent cell damage by blocking free radicals.
Nature's bounty of vitamin E soft gel comes with the goodness of alpha-tocopherol that is used for skin shining, hair fall treatment, and preventing free radicals.
Recommended Dietary Allowance of vitamin E 
 For adult males:- 15mg per day 

For adult females:- 15 mg per day 
Product Details

:-
Brand:- Nature's bounty

Item form:- Softgel / capsule

Diet type:- vegetarian

Age Range:- Adults

Number of softgel:- 60

Country of Origin:- USA
Ingredients

:-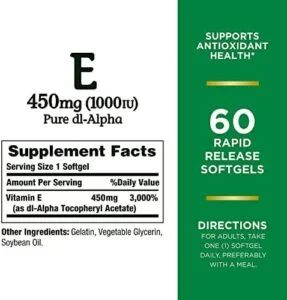 Vitamin E

Gelatin

Vegetable Glycerin

Soybean oil
Benefits of nature's bounty of vitamin E softgel 
Keep skin smooth and remove stretch marks and dark spots.

Also known as the beauty vitamin.

Good for eyes.

Prevent hair and nourishes hair follicles that lead to the healthy growth of hair 

Prevent cell damage by blocking free radicals with its antioxidant property.
Research shows vitamin E has beneficial effects in curing impotence.

It is good for a healthy heart and prevents stroke.

Maintain normal blood glucose levels.

Boost your immune system and keep you healthy.
A side effect of nature's bounty of vitamin E softgel
Overdosage of vitamin E causes certain side effects that are:-

Vomiting and nausea 

Diarrhea

Abdominal pain

Irritability 

Drowsiness.

Muscle aches and fatigue.

In severe cases, it may lead to heart stroke due to thinning of the blood.
Directions of use:-
Take one tablet daily with a meal or as directed by your physician.
Don't take this nature's bounty vitamin E softgel or any other brand of vitamin E capsules without your doctor or physician consultation.
Pregnant, lactating, and nursing women don't consume it without consulting their doctor or physician.
Keep away from children and keep it in a cool and dry place. 
My recommendation:-
(nature's bounty of vitamin E softgel is not intended to treat, cure, diagnose and prevent any disease)
If your doctor recommends you take vitamin E dosage then I must recommend you go for nature's bounty brand because it makes the most effective health products, cost-e jiffective, and natural health products that solve your health problems.
Frequently asked questions

 
Can I use nature's bounty vitamin E capsule on my face Daily?
Yes you can use vitamin e capsules on your face daily but only if your skin doesn't have acne or scar .it causes irritation and side effects on acne and scares. 
Can I take vitamin e softgel without consulting a doctor?
No it may be harmful to your health as vitamin poisoning leads to dizziness, nausea, vomiting, fatigue, and even heart stroke if you overdose on vitamin e.
Do we consume nature's bounty vitamin e softgel for healthy hair and skin?
Yes nature's bounty vitamin e softgel is good for skin and hair, it stimulates epithelial cells to regenerate and hair follicles for the healthy growth of hairs.