Mamaearth Onion shampoo vs good vibes onion shampoo which is better for our hair?
And we are going to compare between brand – Mamaearth vs good vibes: which is better?
Buying any health product we always get confused about what is right and what is wrong ..how to choose the best product?
Mamaearth and good vibes both are very popular brands in the field of beauty and skincare but at some point differences between the products are huge.
Both Mamaearth Onion shampoo and good vibes onion shampoo are made from Onion extract that contains sulfur which helps in promoting collagen synthesis in hair collagen is known for healthy hair and also contains ingredients like keratin, potassium, and other antioxidants for healthy hair.
Mamaearth Onion shampoo
Mamaearth brand knows for its ingredients-based based beauty products without any chemicals and mamaearth onion-based shampoo is one of them.
This shampoo is made from Onion extract, with added plant keratin, soy, and wheat amino acids that strengthen, smoothen and promote new hair growth.
Ingredients:-
Onion:- Onion used in hair fall since ancient times and recent research has suggested that there may be some truth to this traditional use.
One of the important compounds In onions is Sulfur which increases the blood circulation in the scalp that results in the nourishing of hair follicles and the growth of new hairs.
Sulfur is also known for its collagen-boosting property which can improve the strength and elasticity of the hair and help to prevent breakage.
Plant keratin:-  Dryness of hair and scalp causes hair fall to prevent this dryness from causing hair fall mamaearth adds plant keratin in his Onion shampoo to moisturize hairs and scalp.
Plant keratin strengthens hair, and gives them shine and elasticity that ultimately prevents hair loss.
Wheat Amino acid:- What is the role of using amino acids in shampoo?
Amino acids used in hair fall shampoo are best for keeping your hair moist from the inside by drawing moisture from the surroundings.
Thus making hair more elastic, 
Soy Amino acid:– Study found that soy amino acid in hair care shampoo boosts keratin synthesis which is the main structural protein of hair.
Soy amino acids improve hair elasticity and smoothen and prevent the breakage of hair.
Benefits of mamaearth onion shampoo
Prevent hair fall
Keep moisturizing hair.
Keep the scalp moist.
Improve hair elasticity
Prevent hair breakage
Boost keratin
Increase hair shining
Improve scalp blood circulation
Keep hairs healthy
Grow new hairs.
Suitable for all hair types.
Side effects of mamaearth onion shampoo 
No such side effects are seen but if you are allergic to keratin, wheat, soy, or onion then this shampoo is not for you. 
How to use:- 
Step 1:- Rinse the hair through the water until it becomes clean and dust free 
Step 2:- Take mamaearth onion shampoo in the required Amount.
Step 3:- Apply onion shampoo on your scalp with your fingers.
Step 4:- Wash with water and apply conditioner if you want otherwise it doesn't need conditioners as it smoothes hair.
Good vibes onion shampoo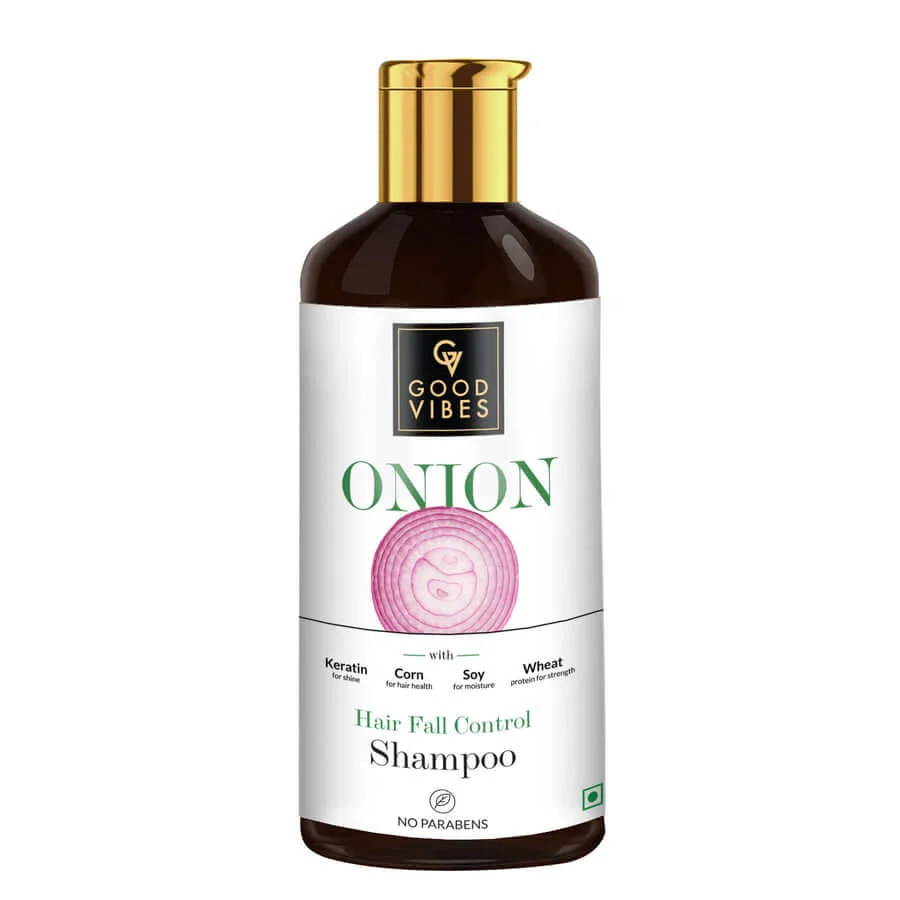 Good vibes make beauty products that are free from chemical ingredients like parabens, sulfate, and mineral oils.
Good vibes onion shampoo contains keratin that strengthens hair and reduces hair.
Ingredients:-
Keratin:-  It is an important protein in repairing damaged hair follicles and growing new hair and it is the structural unit of hairs.
So keratin is the main protein that solves the problems of hair fall and good vibes onion shampoo integrates keratin that makes it more effective against hair fall.
Corn:- Corn is rich in vitamin C, lycopene, and phytochemicals present in corn seed including polyphenols, phenolic acids, flavonoids, anthocyanins, glycosides, carotenoids, and polysaccharides of biological importance, reducing compounds, and some water-soluble vitamins.
Thus corn prevents dull hair from failing and making it strong again, thus preventing hair fall and making dull hair strong and healthy.
Soy and Wheat :- Soy and wheat amino acids boost keratin synthesis that ultimately leads to hair fall reduction and moisturizer.
Benefits of Good vibes onion shampoo:-
Make dull hair strong and like new.
Prevent premature falling of hairs.
Keep hair and scalp moist.
Prevent dandruff.
Soften hair.
Balance hair pH level.
Reduce hair loss.
Suitable for all hair types.
Side effects of good vibes onion shampoo
No side effects are seen but if you're allergic to any ingredients then you should avoid them.
Also, some customers complain about Dryness of hair after use.
How to use 
Wet hair takes an adequate amount of good vibes. Onion shampoo applies gently on the scalp and after that rinse well with water and apply conditioner if needed.
Comparison between mamaearth onion shampoo and Good vibes onion shampoo
Specifications
Mamaearth Onion shampoo 
Good vibes onion shampoo 
Reduce hair fall 
Yes (more better ) 
Yes 
Chemical free 
YES 
YES
Remove dandruff 
No 
Yes 
Vitamin c and lycopene 
Not present 
Present 
Corn antioxidant 
Not present 
Present corn antioxidant 
Remove hair dryness 
Yes
Cause dryness after use
Need of conditioner 
No need .It smoothen hair 
Needed it dry hair.
Make foam in small quantity 
No need for more quantity for foaming 
A small quantity is sufficient 
Prevent premature graying  
No
No
Suitable for 
All hair types 
All hair types 
Price 
Rs 349 (250ml)
Rs 335
(300 ml ) 
Rating
4.5
4.2
Buy Now
Click here
Click here
You can try Nutrafol hair loss treatment for post menopausal hair loss
Mamaearth vs Good Vibes: Which is Better?
Mamaearth and good vibes both are good brands and make effective products for their Customer .
Mamaearth known for its natural ingredients products, they hage dermatologically tested, and natural freindly packing products so if your choice is to go with more natural ingredients then mamaearth will be a good choice but mamaearth products are slightly expensive them good vibes.
Good vibes know for its simplicity and effectiveness product, their products are more affordable, they use both natural and synthetic ingredients based on customer needs , so if you want fast results and no issue with the synthetic ingredients you can choose budget freindly good vibe products.
Frequently Asked Question
Which shampoo is better for hair fall?
Ans:- Both the good vibes onion shampoo and mamaearth onion shampoo are good for hair fall. You can buy anyone according to your choice.
Is it necessary to use oil of the same brand as we use shampoo??
Ans:- It is not necessary to use oil or the same brand as you use shampoo if you use mamaearth onion shampoo then it is not necessary to use mamaearth onion hair oil it depends on your pocket budget as these oils and shampoos are costly so you can use normal coconut oil after using shampoo or vice versa.
How many times should I use mamaearth Onion shampoo?
Ans:-  Use mamaearth onion shampoo in a gap of 2 to 3 days as it keeps your hair soft and silky for that time and when you feel dryness or hair reuse it again.
Is good vibes onion shampoo good for hair fall?
Ans:- Yes Good vibes onion shampoo meet the requirements of hair and reduces hair fall and as it is chemical-free and made from all natural ingredients so it is worthwhile for your hair fall solution. 
You also like :-
Yonka Anti-aging Excellence Code Creme
Good girl probiotics vs Rephresh Pro-b probiotic