NuFACE is a renowned brand specializing in innovative skincare devices that utilize microcurrent technology. These devices are designed to provide non-invasive facial and body treatments, aiming to improve skin tone, reduce wrinkles, and enhance overall appearance.
But all NuFace devices and gels work differently depending on a person's skin type and needs, so choosing the right NuFace skincare product is crucial to achieving optimal results.
If you need skin toner and bright skin, then the NuFACE Trinity Facial Toning Device may be the ideal choice. On the other hand, if you are seeking to target fine lines and achieve smoother skin, the NuFace FIX Line Smoothing Device would be more suitable.
In this article, we will review the Best NuFace skincare products in detail to help you choose the right NuFace product according to your skincare needs.
Also, we discuss NuFace product alternatives, Stay with us till the end to 
1. NuFACE Trinity Device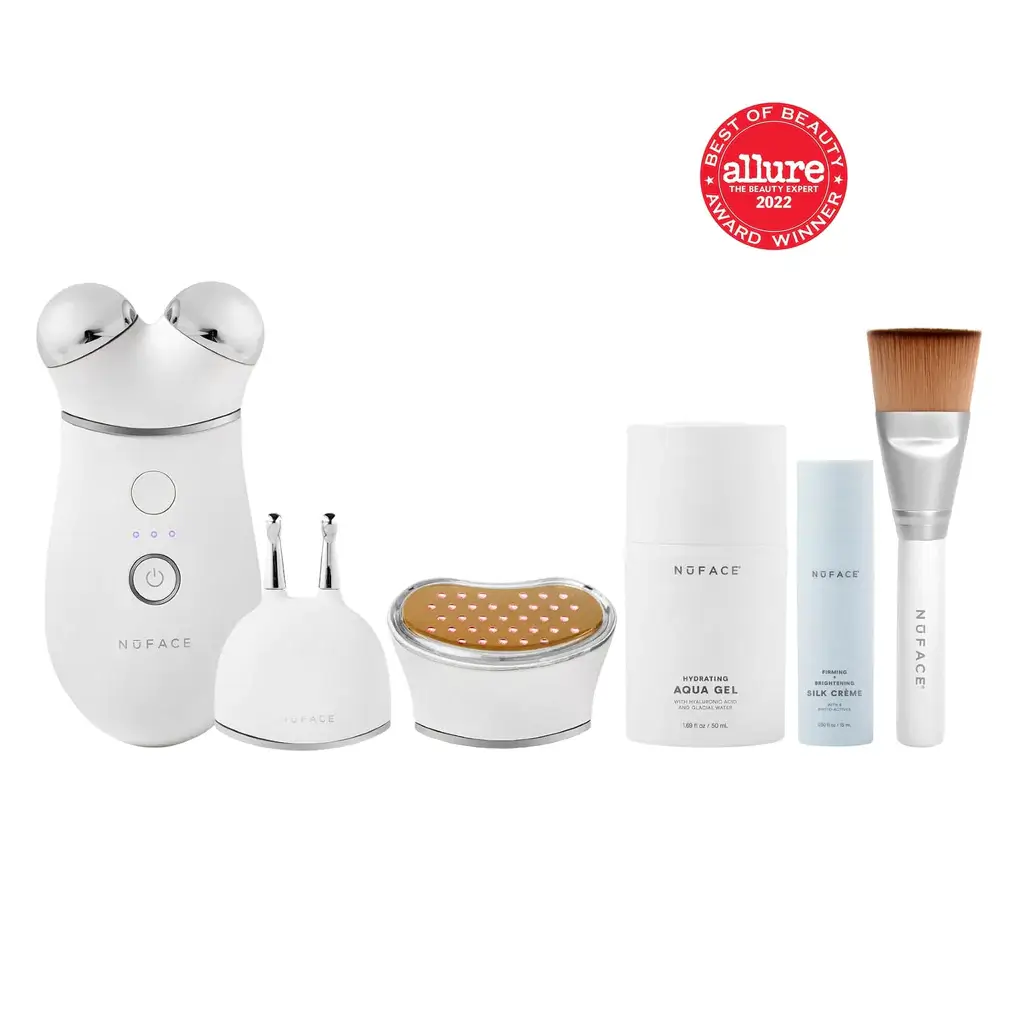 The NuFace Trinity Device is a microcurrent device with an LED light regimen to improve your skin tone and tightness and LED light therapy to reduce skin wrinkles. NuFace Trinity Devices are FDA-cleared and come with interchangeable heads. 
The NuFace Trinity device comes with different attachments for different skincare needs, like skin toning and wrinkle reducers for eye and lip areas, and it is more cost-effective to buy attachments together with the NuFace device from the start.
NuFACE Trinity Facial Toning Device (Review)
Attachment:  It comes with the NuFace standard microcurrent attachment, which is Silver Balls for the treatment of the face and Neck areas.
Pros-
Increase Face Tone and texture, 
providing a more defined and lifted appearance
Reduce wrinkle
Easy to use.
Non-invasive and painless.
Give instant results
Microcurrent skin care treatment and home
Cons- 
Results may vary from person to person due to different skin types, lifestyles, and consistency of use.
Requires regular use and maintenance: In the busy schedule of modern lifestyles, it is difficult to use it regularly and maintain consistency.
May not address all skincare concerns: NuFace does not offer all the different skincare concerns in one device, but we have to add additional attachments and products with it.
Additional attachments and products: These additional attachments and conductive gels increase their cost.
Costly
If it is not suitable for all of your pregnant women, then you should consult your doctor before use.
How to Use It:
1. Prepare your skin- 
Clean your skin to remove dirt, oil, and pollution.
Make your skin completely dry before using the device.
2. Applying a gel primer:
Apply NuFACE Gel Primer evenly to skin areas such as the cheeks, forehead, jawline, and neck, if desired.
NuFace gel primer helps conduct microcurrent deep in the skin for effective use and provides a smooth glide for the device.
Price-  $325.00
NuFACE Trinity + ELE Attachment (for eye and lip area) (Review)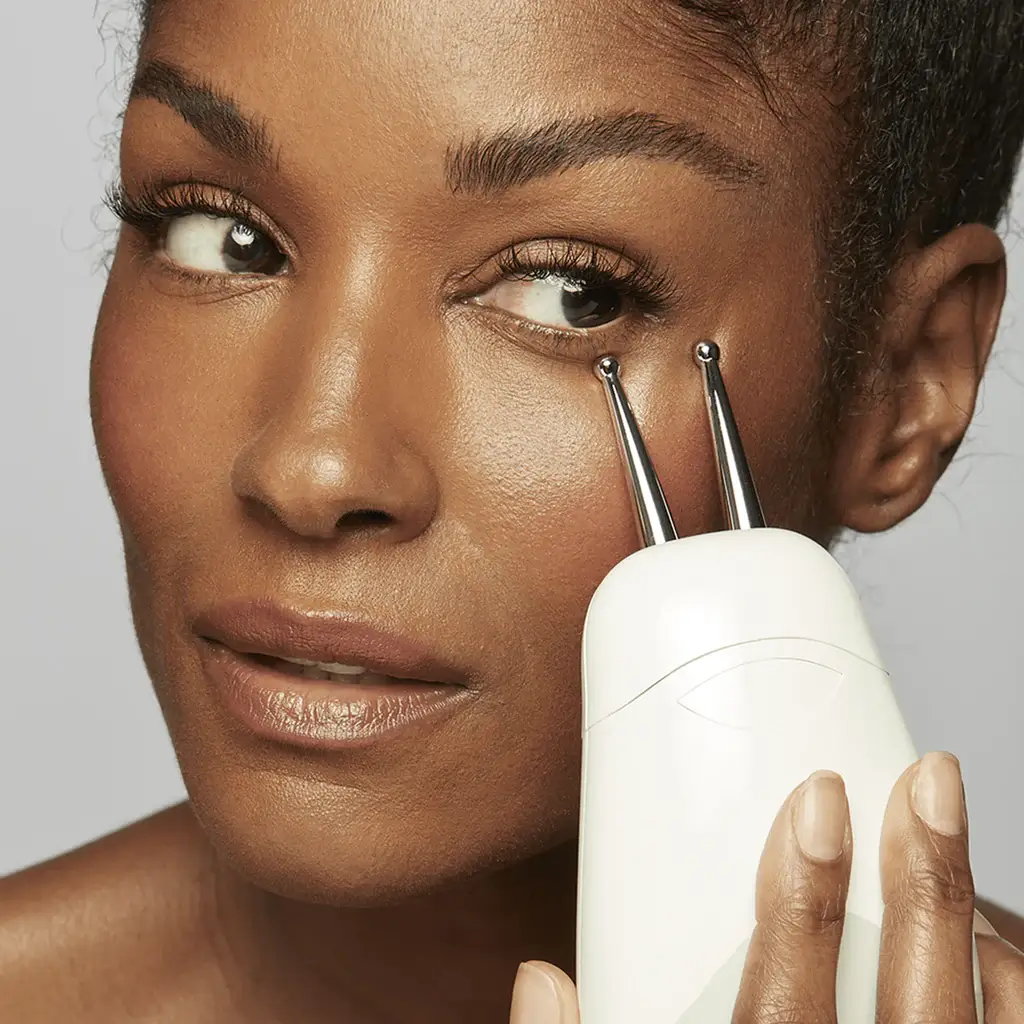 This device comes with the standard microcurrent NuFace Silver Balls attachment plus ELE attachments (Effective Lip and Eye) for treatments of areas such as lips, eyes, face, and neck. It can lift your eyebrows, smooth out lines around your mouth and eyes, and give your face a more defined look. By using it regularly as part of your daily routine, you can achieve a fresher, more youthful appearance. 
Pros-
Can be used for targeted areas such as lips and eyes, where other products can be used easily.
Reduce eye puffiness and the appearance of sagging or drooping.   
Minimized fine lines and wrinkles.
Easy to attach and detach ELE attachment 
Easy to use in a daily skincare routine 
Microcurrent skin care treatment and home
Cons
Required additional cost for ELE attachment 
Required proper technique to use the device with its attachments 
Not a replacement for professional treatment 
Results may vary depending on individual lifestyle, skin type, and consistency of use.
How to Use It:
1. Prepare your skin:   wash your face to remove oil, dirt, and pollution. and make your skin completely dry.
2. Apply Supercharged IonPlex® Facial Mist to improve microcurrent conduction.
3. Glide and roll the device on the targeted areas, such as under the eyes and lips, and continue it for a few minutes. 
4. After treatment, remove the excess gel from the treatment areas.
Price: $495.00
NuFACE Trinity + Wrinkle Reducer (Review)
Standard microcurrent attachments (silver balls) and Wrinkle Reducer attachments (red LED treatment) are useful for treatment areas such as the Face, Neck, and Full face to reduce wrinkles with the help of LED lights that reduce fine lines and wrinkles.
Pros- 
Reduce fine lines and wrinkles 
LED lights increase collagen production, which improves skin elasticity and firmness over time.
Convenient and compatible Wrinkle Reducer Attachment is easy to attach and detach from the main device, making it a convenient addition to your NuFACE Trinity routine.
Painless and non-invasive treatment 
Can be used at home
Cons- 
I need extra money to buy a NuFace Wrinkle reducer attachment.
Require regular use and consistency 
Results may vary 
Not as effective as a professional skincare treatment 
NuFace Mini microcurrent device review:
NuFace mini is a portable, lightweight, low-cost microcurrent device, and it works on the same maximum output of 335 microamps as the NuFace Trinity.  n NuFace Trinity 
But it is more cost-effective and portable; it does not have any additional attachments for eyes, lips, or LED treatment, so it can be used only on the full face.
Pros and cons: 
| PROS | CONS |
| --- | --- |
| Portable | Lack attachment  |
| Lightweight than nuface Trinity  | Need conductive gel  |
| Reduce signs of aging  | Results are not permanent |
| Reduce wrinkles and fine lines | Require Repeated use  |
| Increase skin tone and brightness. | Take time to show results and results are not the same |
NuFace Fix Microcurrent Device Review 
The nuFace Fix microcurrent device is small in size, a pen-like machine that works the same as the NuFace full-size device.
NuFace Fix provides a better grip and is easy to use in areas such as the eyes and lips where big devices can't reach.
Pros and cons 
| Pros | Cons |
| --- | --- |
| Easy to handle like a pen  | Results may vary from person to person  |
| Reduce undereye puffiness  | Require time and Daily use |
| Reduces wrinkles  | Results are not lifelong  |
| Glow skin without being oily | Need consistency  |
| Make Cheek plum and more defined | High price  |
| Reduce redness and irritation  | Need Conductive gels increase its cost more. |
| Non-invasive and painless | Some people may feel twitchy.  |
How to use NuFace microcurrent device
Prepare your skin
Prepare your skin by washing your face to remove oil, dirt, and pollution. and make your skin completely dry.
Adjust Nuface Trinity Device microcurrent intensity.
Attach the NuFace Trinity Device with the Wrinkle reducer and turn it on.
Select the desired intensity by adjusting the intensity by pressing the microcurrent intensity adjuster button.
Now begins the treatment:
Position the Wrinkle Reducer Attachment onto your skin and gently glide it over the targeted areas with a slow and deliberate motion. Focus on areas with fine lines and wrinkles.
Maintain contact and continue treatment:
Ensure that the metal spheres maintain contact with your skin throughout the treatment. If the spheres lose contact, the device may emit a beep, indicating that you need to adjust the position.
Power off the device:
After completing your treatment, press and hold the power button to turn off the device and place it on the charging cradle for charging.
How NuFace Trinity Device Works
NuFace Trinity Devices work on microcurrent technology, which is a low-level current of 335 microamps that mimics the nerve signals of the body.
NuFace microcurrent devices stimulate facial muscle contraction and relaxation, increase facial skin tissue blood circulation, increase collagen synthesis, and increase skincare product absorption; all this ultimately results in healthy, glowing, radiant, and smooth skin.
NuFace Microcurrent Device Alternative
As everyone can't afford expensive Nuface skincare microcurrent devices, we go deep into research and find some alternative devices that work the same as NuFace devices but are pocket-friendly. We will provide you with a detailed review of NuFace microcurrent alternative machines
Stay with us and take advantage of experts' knowledge and research.
1.7E MyoLift Duo Device Review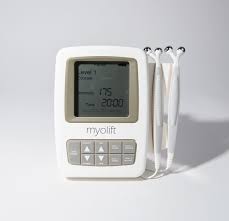 It is a two-in-one device that is used for facial toning and eye lifting; there is no need to buy an extra attachment for the device.
Pros- 
A two-in-one device for face toning and eye lifting
Professional-grade results
Results may vary 
Cons-
Expensive
Price– $349
2. Ziip Microcurrent devices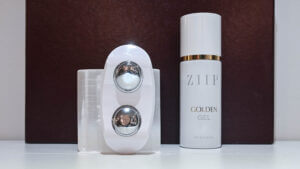 After Nuface another popular brand in this line is Ziip It provides a wide range of devices according to the need of people and this includes 
Ziip Nano
Ziip Glo
Ziip Lift 
Ziip X 
Ziip Glider 
Ziip Body
Ziip Duo
Ziip Duo plus
All these Ziip microcurrent devices are designed for different purposes Ziip Nano is a good option for those who are looking for a more affordable microcurrent device. The Ziip X is a more powerful device that is designed for those who are looking for more intense results.
3. FOREO Bear Microcurrent Facial Device Face Sculpting Tool review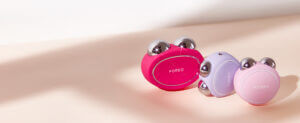 Foreo Bear mini comes with two mini microcurrent spheres that directly flow the microcurrent in the skin precisely and start facial muscle contraction, relaxation, and increase blood flow to facial tissues, which leads to diminished signs of aging and a firm, lifted appearance.
The Foreo Bear mini microcurrent device provides Foreo app support that gives you additional options for a variety of customization of the device and sees your routine.
Pros- 
A compact and lightweight device 
App support For targeted treatment 
Reduce wrinkles and fine lines
 FDA-cleared
Cons-
Not include the charger, only the charging cord in the box
People complain about the build quality and working quality of the device 
Price-  $219
4. ReFa 4 Caxa Ray review
ReFa 4 Caxa Ray is a microcurrent device that uses Releasing Lift technology to lift, tone, and firm the skin and also reduce wrinkles and fine lines.
Pros-
FDA-cleared 
Conductive gel pads included in the box
5-level customizable intensity
Water-resistance
Cons 
Expensive
Lack some features that are present in other microcurrent devices of the same price range 
Price- $330 
5. Skin Gym Microcurrent Wand review
The SkinGym microcurrent wand is a handheld microcurrent device that comes with five different intensity levels according to the needs of your skin.
Pro and cons
| Pros | Cons |
| --- | --- |
| Cost-effective | Not powerful as other devices  |
| Skin Benefits | |
Price: $99
6. Flawless Microcurrent Facial Toning Device review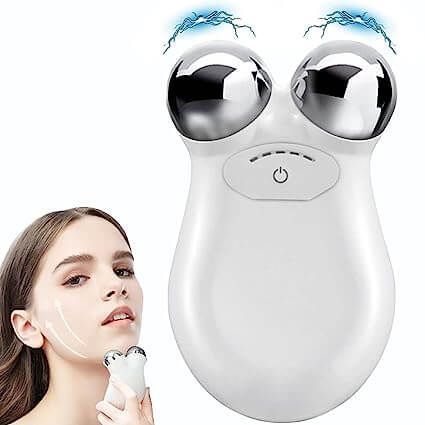 If your budget is low, then this will be a good choice to use Microcurrent machine therapy. The Flowsome Microsculpt Device operates at three levels.
Go with this device only if you don't have money, as its ratings are not good on Amazon. It has a rating of 2.6 out of 5 on Amazon.
Pros-
Affordable price 
Three-level adjustable operating buttons
Cons-
Low rating at Amazon
No FDA clearance
Price-  $39.99 
We aim to add this device to the list to make you aware of low-value microcurrent devices that are present in the market at a low price but don't work well. So choose wisely 
NuFace Conductive Gel and its Alternative
Microcurrent treatment needs conductive gels that flow the current in the skin; without conductive gels, microcurrent devices are useless.
NuFace introduces its microcurrent conductive gels for their microcurrent machines.
Let's review some of NuFace Conductive Gel and see its ingredients, pros, and cons. 
Why do we need nuface microcurrent conductive gels?
Our skin has seven layers; the outermost layer is the stratum corneum, which is the most dry layer.
The microcurrent flow needs moisture provided by NuFace conductive gel that helps penetrate the microcurrent deep in the skin until the last layer to work most effectively. 
1. NuFace Hydrating Aqua Gel:
NuFace Hydrating Aqua is a lightweight microcurrent-conductive gel used before Nuface microcurrent treatment to Conduct the flow of microcurrent deep in the tissues.
Ingredients:-
GlacialWater/Aqua 
Hyaluronic acid
IonPlex 
| Pros | Cons |
| --- | --- |
| Fda-cleared  | Temporary hydration  |
| Hypoallergenic  | May cause allergy  |
| Increase microcurrent conduction | Does not treat No specific skin concern  |
| Lightweight  | Results vary  |
| Lock Moisturiser  | |
| Cruelty-Free | |
| Animal byproducts  free | |
| Make skin soft  | |
| Smoothly glide device  | |
How to use: 
Cleanse your skin with water and cleanser 
Apply toner to balance skin pH (optional)
Gently apply Nuface Hydrating Aqua Gel over the area.
Leave until completely absorbed 
Now Nuface has a microcurrent device.
Price:- $35
2. NuFace Silk Creme Activator 
NuFace Silk Creme Activator is a luxurious microcurrent-conductive cream that brightens and firms your skin and hydrates it for up to 48 hours.
Ingredients:-
IonPlex
Hyaluronic acid
Glacial water
8 phytoactive ingredients: snow mushroom, Clover flower extract, African leaf juice extract, Summer snowflake extract, ginger root extract, and sunflower seed oil.
Dragon fruit extract
Pros and cons
| Pros | Cons |
| --- | --- |
| Brighten skin | Costly  |
| Healthy and youthful skin | Some ingredients may cause allergy  |
| Increase collagen synthesis  | Not suitable for all skin types  |
| Even-toned skin | |
| Increase microcurrent conduction  | |
| Lock moisture for 48 hours  | |
| full-looking appearance  | |
| FDA- Cleared  | |
| Cruelty-free  | |
How to use: 
Cleanse your skin with water or cleanser
Apply NuFace Silk Creme Activator gently over the skin.
Now use a microcurrent device as per your instructions.
Price: $50
3. NuFace Fix Serum
A microcurrent serum designed to reduce fine lines and wrinkles and give a brighter look
Ingredients:-
IonPlex
Triple peptide complex
Light-reflecting pigments
Hyaluronic acid  
| Pros | Cons |
| --- | --- |
| Reduce fine line  | Pricey  |
| Reduce wrinkles  | May cause allergy  |
| Brighten skin  | |
| Lock moisture  | |
| Fda-cleared  | |
| Reflect light  | |
| Cruelty-free  | |
Price:  $49
How does conductive gel work?
NuFace conductive gel provides moisture, ions, and a greater surface area for the flow of microcurrent.
NuFace microcurrent conductive gel Alternative
If your budget is tight and you can't afford NuFace microcurrent conductive gel, then you can go for their alternative gels, which are very popular in various forums and groups.
1. Angel ultrasound gel
The very popular NuFace microcurrent gel alternatives work, but they are water-based gels that are used to conduct ultrasound waves using microcurrent.
It has many ingredients that help in balancing Skin pH, locking moisture, and increasing microcurrent and ultrasound penetration deep in the skin. 
Price: £3.29
But it is better to use NuFace gel instead.
2. Aloe Vera gels 
People get confused about using Aloe vera gel as an alternative to NuFace gel, but the truth is, you can use it.
Aloe vera gel contains natural minerals and ions that conduct microcurrents in your skin.
Aloe vera has Moisturizing, anti-inflammatory, and anti-acne properties that give you additional benefits.
Many popular brands of Aloe vera are available on the market, Such as Aloe Pura, Dr. Organic, Fruit of the Earth, and Nature Republic. You can try this brand's aloe vera gel.
Ingredients to avoid in microcurrent gel
Oils: Oils decrease microcurrent conduction, which eventually decreases its effect, so choose a microcurrent gel that does not contain oils.
Harmful chemicals: Many microcurrent gels contain harmful chemical ingredients like Parabens, Sulfates, and  PEGs 
Allergens:  Read all the ingredients carefully, watch for those that cause your allergy, and avoid purchasing them. You can also do a patch test after buying to prevent allergic effects.
Final Verdict 
NuFace skin care is the best in microcurrent treatment at home, and the best point is that they are FDA-Cleared products. The con is that their products are expensive, so if you want to spend more and want high-quality skincare products, then you should go with NuFace microcurrent machines and NuFace conductive gels, as others are not as effective as NuFace.
Attention-
This review is only for informational purposes; we do not recommend products. Please consult your dermatologist before buying any skincare product.