Fairhaven Health is a USA-based company that started in 2003 and is known for its fertility Supplement starting from pre-conception to pregnancy to lactation. 
Fairhaven health products support male and female fertility and sexual and hygienic health.
The company is ISO and GMP certified, making it well-researched and under the eyes of Nutritionals, doctors, and naturopaths.
Fairhaven Company claims in its about us that it spent more on clinical trials and all the reproductive health products are clinically tried for promising results for couples.
The company has been working in the reproductive health products field for the last 20 years and we trust their product as we see positive results from customers. 
Here we review some of the fertility products of Fairhaven health, their pros and cons, and how effective they are.
1. Fairhaven Health FertilAid for Women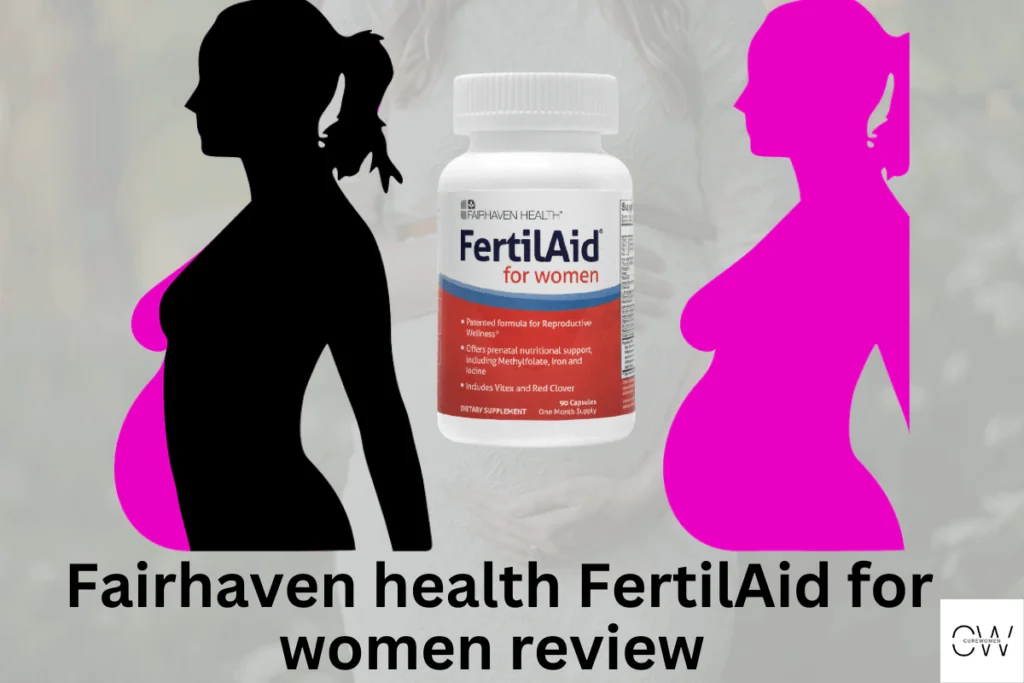 FertilAid for women is made for women who try to conceive a baby but due to the irregular menstrual cycle, she is not getting pregnant.
The menstrual cycle is a 28 to 30-day cycle that comes every month and it decides the time of female ovulation.
But due to hormonal imbalance, stress, tension, or other health issues, the menstrual cycle gets disturbed and does not come the time it may be delayed to 5 to 10 or even 15 days or may come before the actual time like before 5 or 10 days.
Fairhaven FertilAid for women solves this big problem of women through its active ingredients like vitex, methyl folate, Red clover, Ginkgo biloba, and vitamins.
FertilAid antioxidant properties prevent egg damage by free radicals, boost egg health, and prenatal vitamins for the health of the baby as the baby gets what he needed during pregnancy
Prediction of ovulation is a crucial step in obtaining conception. If you have intercourse during that 3 to 5 days fertile window the chances of getting pregnant are high but your irregular menstrual cycle makes it difficult to know the fertile window.
FertilAid for women makes menses regular so you know the exact time of your fertile window which is the time for your coitus and getting pregnant.
FertilAid for women is clinically proven by Fairhaven health. 
Ingredients:
Vitex agnus castus
Red clover
Ginkgo biloba
Methyl folate
PABA 
Beta carotene
Vitamin C 
Vitamin E 
Vitamin B complex
Vitamin D 
Iron 
Zinc 
Vitex agnus castus:–  
vitex used in FertilAid for women Also known as chaste tree evidence shows that it has an estrogenic and progestogenic activity that helps in women conceiving a pregnancy.
According to a study at Informit  Through the manipulation of reproductive hormones, the herbal remedy Vitex agnus-castus, sometimes known as the "chaste tree," is effective in treating several hormonal problems, including premenstrual syndrome and cyclic mastalgia. This report describes a case of RPL where low amounts of progesterone were found. Following a month of Vitex treatment, a healthy pregnancy with normal serum progesterone levels and a live birth at term were experienced.
Vitex used for female reproductive health prevents miscarriage, menopausal symptoms, and lactation in childbearing women.
A study on mice development shows the vitex affects differently in different stages of development of mice like increasing CRL and weight of mice. 
Red clover:-  This herb is rich in many vitamins and minerals like vitamin C, and zinc magnesium that improves the uterine lining, and thickened endometrium, and makes a suitable environment for the fertilization of the ovum and sperm.
After fertilization, it makes the endometrium suitable for implantation and helps in maintaining the normal level of progesterone hormone for the development of the fetus.
Ginkgo biloba:-  The safety of ginkgo Biloba in pregnancy is unknown but some experts say it is unsafe to take ginkgo during pregnancy well FertilAid for women is taken before pregnancy so we can say it does not affect the pregnancy as we stop taking the FertilAid after getting pregnant.
But I think it is better if the FertilAid is free from Ginkgo biloba so the risk is lowered.
Vitamins:- Vitamins play an important role in the hormonal balance and regularity of the menstrual cycle in women deficiency of vitamins like vitamins C D, E, and vitamin B reduces the chances of fertilization as the health of the ovum and reproductive tract is affected by this vitamin.
Methylfolate is a naturally made folic acid by the body so it is safe to take it in FertilAid for women as it is the best antidepressant during pregnancy but should be taken under healthcare supervision and should not be overdosed.
Pros of FertilAid For women:- 
Hormonal balance in women.
Regulate menstrual cycle
Boost egg health.
Increase fertility chances.
Thickened endometrium for healthy implantation.
Easy to swallow and good taste.
Gluten-free 
Yeast free 
Antioxidant properties prevent free radical damage. 
Cure vitamin, iron, and magnesium deficiency.
Cons of FertilAid for women 
No such side effects are shown till now but the study says Ginkgo biloba is not safe for pregnant women as it causes heavy bleeding during Labour. 
Directions of use:- 
Take 3 capsules daily and discontinue after when you get pregnant.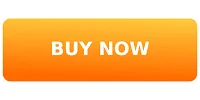 Black Friday sale coupon:- BF30
---
2. Fairhaven health OvaBoost for egg quality.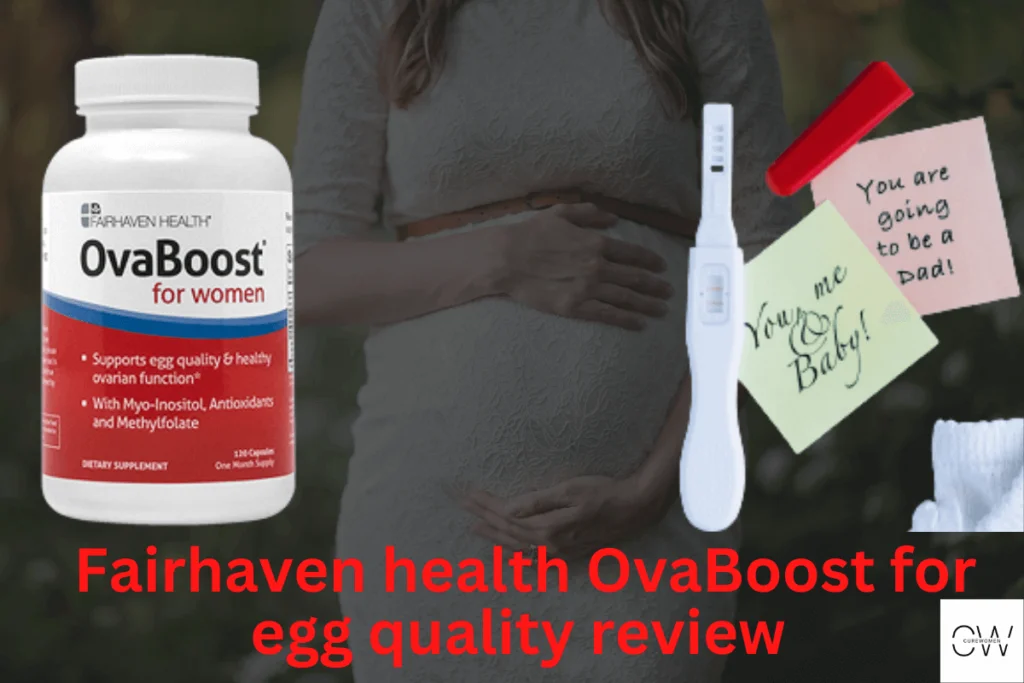 Fairhaven health OvaBoost for egg quality is designed to improve the health and quality of the ovum.
As eggs are present in ovaries from before birth and every month, only one egg is released for fertilization.
As women get older the age, health, and quality of eggs also get older which leads to difficulty in getting pregnant.
ovaboost from Fairhaven health solves this problem by enhancing health, quality, and hormonal balance in females and reducing the chances of Miscarriages.
As the ovum gets older it's health and quality reduce so the chances of miscarriage and fetus abnormalities increase.
Fairhaven health OvaBoost for egg quality contains methyl folate, Myo-inositol, melatonin, Co-Enzyme Q10, grape seed extract, alpha lipoic acid, and vitamin E to support egg health, ovarian cycle regularity, and hormonal balance in women.
Ingredients:-
Co-Enzyme Q10
Myo-inositol 
Methyl folate
Melatonin.
Vitamin E 
Alpha lipoic acid
Grape Seed extract.
Coenzyme Q10:-  CoQ10 is a biomolecule present in Fairhaven health OvaBoost and is also naturally present in every cell of our body.
As we age, the concentration of CoQ10 also decreases, thus the quality of eggs and sperm declines dramatically.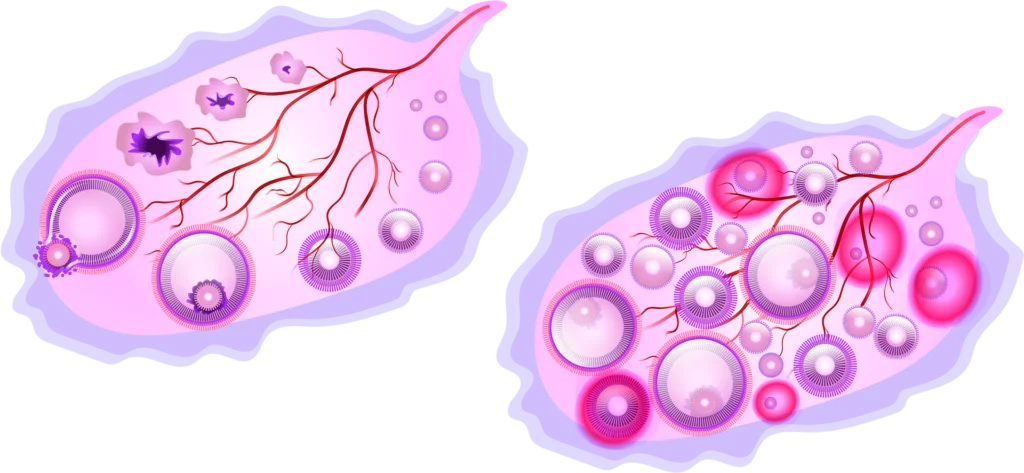 A study in 2015 said that adding a CoQ10 supplement in aged people increases the health and quality of eggs and sperm thus increasing fertility.
CoQ10 provides energy to the ovum by centrally acting in mitochondrial cells that produce energy.
Its antioxidant property prevents egg and sperm from free radical damage.
Fairhaven health OvaBoost CoQ10 enzyme overall improves egg and embryo quality and increases the fertility rate.
Myo-inositol:-  It is a dietary supplement taken during pregnancy. It has antioxidant properties that prevent egg damage from free radicals.
Myoinositol prevents gestational diabetes during pregnancy.
Melatonin:-  melatonin in Fairhaven health OvaBoost for egg quality helps increase fertility, preventing free radicals, and treating insomnia during pregnancy.
Well, experts believe that our body produces enough melatonin during pregnancy that we don't need to take a supplement.
Overdose of more than 10 milligrams a day causes side effects like Headache, Nausea, Dizziness, and Sleepiness.
You can use SleepOn Go2sleep to track your sleep 
Other Ingredients:-  vitamin E, alpha lipoic acid, grape seed extract, and methyl folate play an important role in Fairhaven health OvaBoost supplement.
They increase ovarian health, reproductive health, thickened endometrium, increasing ciliary function in the reproductive tract thus increasing the fertility of women.
Pros of Fairhaven health OvaBoost for women.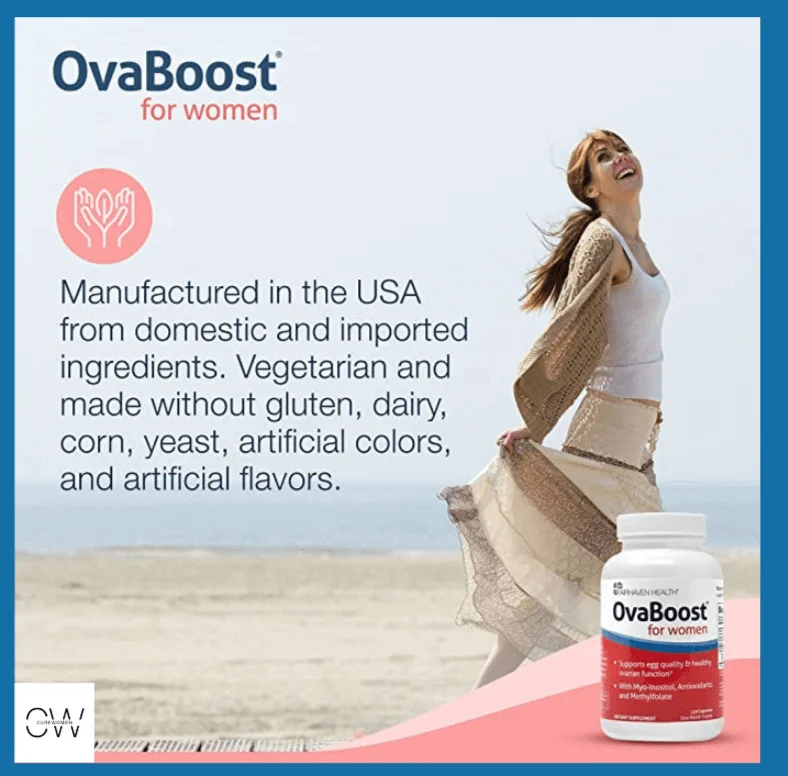 Increase energy for eggs.
Improve ovarian health.
Prevent egg damage from free radicals.
Reduces the risk of miscarriage.
Reduce the risk of fetus abnormalities
Boost the reproductive health of women.
Enhances the egg's health and quality.
Balance Hormonal in women
Regulate the irregular menstrual cycle

.
Cons of Fairhaven health  OvaBoost for women:-
No side reported till now
Period miss complaints come from Amazon reviews as they miss their periods after taking Fairhaven health Ovaboost.
If you feel any discomfort after taking ovaboost for women then immediately discontinue the supplement and consult your doctor.
If you have already taken other prescriptions for any disease please consult your doctor before consuming any other health products that may cause adverse effects on your health.
Directions of use:-   
Take 4 capsules daily as per your comfortable time zone.
(Please consult your doctor before taking any health supplement )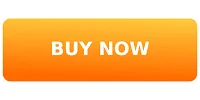 Other Helpful Fairhaven health products
Black Friday sale coupon:- BF30
Frequently Asked Questions?
Q.1 Are Fairhaven Health products legit?
Ans:- Fairhaven health is a well-known company that makes fertility products for men's and women's reproductive health. the company claims that all reproductive health products are made by well-researched and clinical examination.
So The Fairhaven health products are legit and trustworthy.
Q.2 Does Ovaboost make you sleepy?
Ans:- Yes it may make you sleepy due to the overdose of melatonin present in Fairhaven Ovaboost as our body makes enough melatonin needed for health during pregnancy.
So when we take ovaboost it increases the concentration of melatonin in the blood which causes sleep, dizziness,  nausea, and headaches.
Q.3 Does FertilAid for women help me to get pregnant?
Ans:- Yes, Fairhaven FertilAid helps you to get pregnant by balancing your hormones, Regulating your menstrual cycle, increasing reproductive health, and preventing free radical damage.
Q.4  When should I stop taking FertilAid for women and Fairhaven Health Ovaboost? 
Ans:- When you achieve Pregnancy immediately stop taking FertilAid and OvaBoost and consult your gynecologist for future medications.
Also Read
Havasu L Arginine Supplement review
Amazlife testosterone booster for men