In the field of toothpaste it is difficult to choose the right and useful toothpaste even if we choose one we didn't know all about. In this article, we'll break down everything you need to know about Crest 3D white toothpaste review.
Crest 3D white toothpaste is a fluoride-based Toothpaste that cleans stains, prevents future stain, and whiten teeth after a single brush.
Crest 3D white toothpaste also prevents cavities, tooth decay, and other infections strengthens tooth enamel, and gives you minty fresh breath.
Crest 3D white toothpaste variant
Crest offers various options for healthy and white teeth which are Crest 3d brilliance white toothpaste, Crest 3d Radiant Mint toothpaste, and Crest 3d White Arctic Fresh tooth.
Crest 3D white toothpaste ingredients 
Active Ingredients
Sodium fluoride 0.243% (0.15% w/v fluoride ion)
Inactive ingredients
Water
Sorbitol 
Hydrated silica 
Disodium pyrophosphate 
Sodium lauryl sulfate 
Flavors 
Cellulose gum 
Sodium hydroxide
Sodium saccharin, 
Carbomer
Mica
Titanium dioxide 
Blue 1
Crest 3d white toothpaste pros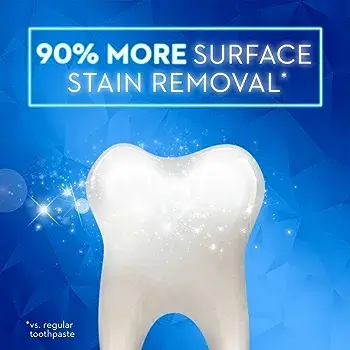 Whiten teeth
Remove stains from teeth
Protection against cavities
Delicious flavor
Give fresh breath
Strengthen enamel
Prevent bad breath
Fluoride protection 
Doesn't cause any discomfort
Various option available 
Easily accessible at various online and offline stores
Crest 3d white toothpaste Cons
May not be suitable for people with sensitive teeth
Some people do not like the flavor 
Small size 
High price
Gum redness in some people 
How to use Crest 3D white toothpaste 
Take a required amount of crest 3D toothpaste on the brush and brush your teeth thoroughly.
Avoid swallowing and keep away from children below 2 years of age.
Customer reviews
According to reviews on Amazon, customers like the color, taste, performance, value, flavor quality, smell, and strength of Crest 3d white toothpaste.
Customer says they feel fresh after brushing their teeth with Crest toothpaste and eventually their teeth become white and strong the formula fights cavities and promote healthy gum.
Crest 3D white toothpaste also has some negative reviews from the customer which are – 
Some customers didn't like the taste of the crest whitening toothpaste.
Other customers complain about the size and quantity of Crest toothpaste.
One customer said he felt Sensitive gums after using Crest toothpaste and his gums became red.
Some people find it difficult to squeeze paste from a tube.
Conclusion
After going deep into the Crest 3D white toothpaste review we can say that Crest 3D white toothpaste is good for Whitening teeth removing stains and protecting from future stains.
If you want white teeth then you should try it after consulting your dentist.
Crest toothpaste has an affordable price and is easily available at offline and online stores.
Frequently asked questions
Does crest 3d white toothpaste damage your teeth?
No crest 3d white toothpaste doesn't damage your teeth. It is useful for removing stains and teeth whitening but it may cause teeth sensitivity and Redness in gums in some sensitive people so do a test and consult your dentist before using it.